Home > Services > Floor Coatings
Floor Coatings
Your guide to protective coatings and beautiful colors.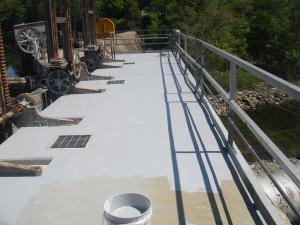 Our product line consists of high performance epoxy coatings, decorative broadcast flooring systems, concrete sealers, decorative stains and concrete self-leveling toppings.
At PCS we use only the most advanced and long lasting materials on the market.
There is no better way to transform your existing floor than by coating it. Whether it's new concrete, wood, or deteriorated concrete we can prepare the substrate and install a new flooring system to meet your exact needs.
Floor preparation
We have the right tools for the job
We have floor grinders and shotblast equipment that is equipped with vacuums for dust control. This enables you to carry on with your work with us working right beside you. Additionally we have chipping hammers, crack chasing saws, scarifiers and an array of other hand held tools that enable us to prepare any surface for a floor system.
Epoxy Flooring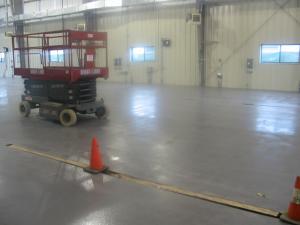 When it comes to push and shove, epoxy coatings are the toughest on the market. Whether you need a thin film coating or a ¼" trowel down system there are many benefits to epoxy.
Benefits of epoxy flooring:
Seamless, easy to clean
Impact resistant
Good chemical resistance
Long lasting
Many colors and textures to choose from
Great looking
Sanitary
Perfect for a variety of commercial, industrial and residential settings including:
Bathrooms
li> Garages
Cafeterias
Shower and locker rooms
Kennels
Warehouses
Concrete staining
Concrete stains are not paints, rather a chemical reaction with minerals in concrete. The chemicals penetrate through concrete pores to form a durable solid color which will not chip, fade or peel.
Stain is virtually maintenance free for a carefree lifestyle--simply damp mop as needed.
Benefits of staining
Affordable
Durable
Easy to Maintain
Versatile
Elegant
Wide range of colors
Stain is the perfect choice for both interior and exterior surfaces. Often used for commercial purposes, concrete staining lends a clean, attractive look to driveways, patios, walkways, floors, walls and entrances. It is perfect for high-traffic areas and is very affordable. Wax or Sealer can be applied to further enhance depth of color and provide surface protection. We look forward to assisting you in creating beautiful, durable, and affordable stained concrete projects.
Self-leveling toppings
We have products that are self-leveling, no troweling cementious toppings designed for resurfacing and leveling indoor and out door floors. Whether its being install as a underlayment for carpet or tile, or it's being installed to resurface a patio, sidewalk or warehouse we have a system for you.
Range of application and advantages
Unlevel concrete
Rough Concrete
Rained on concrete
Rough screeded concrete
Walkable in 2-4 hours
Permanently bonds to tile, wood, concrete, terrazzo and steel decking
Quick drying, so you can install finish flooring faster