Pease Construction Services
PCS is a specialty contractor with crews working in every state in New England. We keep our crews busy by providing innovative cost efficient solutions to all of our customers needs.
At PCS our employees are our greatest asset. Our team is consistently exposed to the best training in the industry. For example we have ACI certified finishers and shotcrete nozzle men. Our waterproofers are certified by our material suppliers and our equipment operators are trained at the factory. We recognize that we are only as good as the crew on site.
Below is a list of our services, if there is anything we can help you with give me a call.
Rick Pease - Owner
Concrete Repair Services and Pressure Grouting in New England.
Services: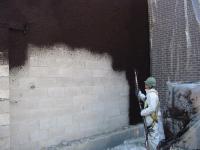 Waterproofing
Above and below ground spray applied systems
Affordable concrete pumping
Our versatile pumps can be fed by a ready-mix pump or we can mix our own with the integrated batch mixer
Pressure grouting
Crack repair, slab jacking, soil and structural stabilization
Shotcrete & Gunite
Spray applied concrete wet and dry mix ,great for building stabilization and foundation repair, tank linings, retainer walls, swimming pools, dams and more.
Floor coatings
High performance epoxy coatings, decorative broadcast systems, sealers, concrete stains and concrete self-leveling toppings.
Concrete Repair
Spalls, joint repair, caulking, crack repair, form repairs, tuck pointing
Welding and Fabrication
Structural repairs, restoration
See more details about the construction services we offer.
A specialty contractor working in New England specializing in construction services such as concrete repair, pressure grouting, floor coating, welding services and more at affordable prices. Repair parking garages, gunite pools and foundations in New England.